Shouldn't We Have More Posts?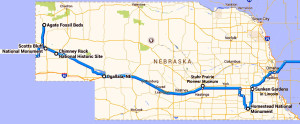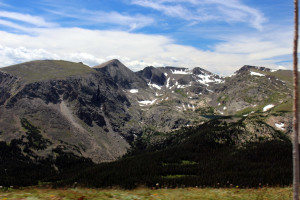 We spent all last week traveling through Nebraska. A week in Nebraska – isn't that a week too long? Not really, there was plenty to see and do, but that's a story we'll tell you another time. We've been visiting Rocky Mountain National Park for the last few days… but that's a story for another time too.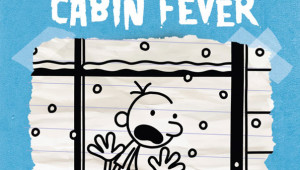 It seems like we have just been piling up stories for another time! At least we're not in any danger of developing cabin fever, a malady afflicting people shut into a small space (like our RV!), but with nothing to do (not us, we have TOO MUCH to see and do!) In fact, we've been thinking that we've been so busy that we haven't left any time to keep up on writing about our travels! But could we really be suffering from a case of writer's block?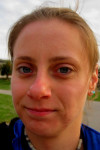 Fortunately, we may have come to the right place – our daughter-in-law Sheila pointed out that our campground in Estes Park Colorado is in the same town as the historic Stanley Hotel!

Built over 100 years ago by Freelan Oscar Stanley, the inventor of the early 20th Century steam-powered car, the Stanley Steamer,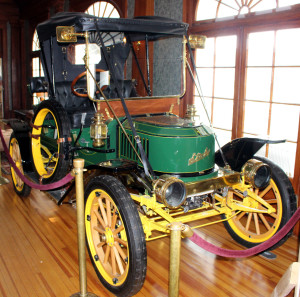 the hotel features a vintage Stanley Steamer in the lobby. But that's not what the Stanley Hotel is REALLY famous for…
Lonely Guests at the Hotel of Horrors
After having his first two novels become instant bestsellers, Stephen King wanted to spend a year away from Maine to give his next book a change of pace.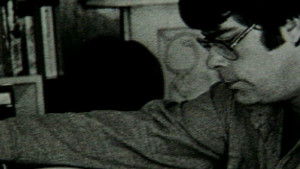 He pulled out an atlas, set it on his kitchen table, and picked a place at random. His finger landed on Boulder Colorado. So In October of 1974, he and his wife Tabitha checked into the Stanley Hotel in nearby Estes Park, right next to Rocky Mountain National Park. Summers are short in the Rockies, and the hotel was getting ready to close for the season.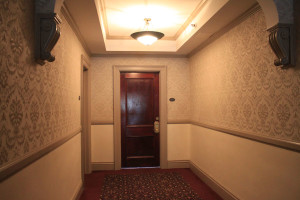 They found themselves the only guests in a place filled with empty rooms and long, empty corridors.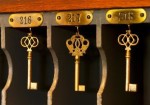 They checked into room 217 which, as they learned to their horror, had a reputation for being haunted!
They had dinner – totally alone – in the Grand Dining Room, where only one table was set… all the other tables had their chairs perched on top, upside down.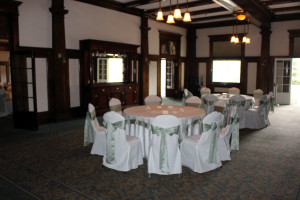 Taped music echoed through the empty halls, as they dined on the only meal still available at the hotel. King remembered a book idea he had abandoned two years earlier called "Darkshine," about a boy with psychic abilities at a paranormal hotel. The plot came back to him now, only in much more sinister form.
Cabin Fever Sets In at the Stanley Hotel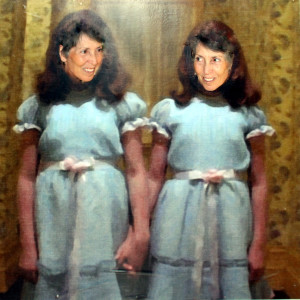 His wife Tabitha decided to turn in after dinner, but Stephen stayed up, roaming the halls, as he thought about all the rumors and tales of supernatural events and haunted rooms in the Stanley Hotel that had been building up for years before his arrival, and his mind grew darker as the night wore on. He tried to sleep, but was startled awake by a nightmare about his young son screaming, looking over his shoulder as he ran, being chased through the empty halls of the hotel by a firehose.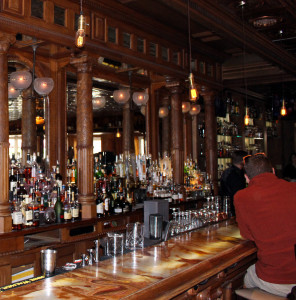 He ended up in the bar, being served by a bartender named Grady. By the time he went to bed that night, Stephen King had the entire story of his next book firmly in his mind, about Jack Torrance, an aspiring writer suffering from writer's block, who had taken a job as the caretaker of the Overlook Hotel near Rocky Mountain National Park.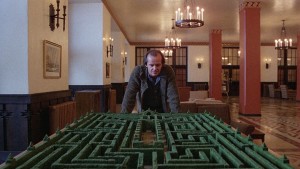 King's "Overlook Hotel" was fictional, but the Stanley Hotel is real, complete with all those tales of noises in the night, strange apparitions, a topiary where the animals come to life, and the haunted garden maze you can walk through right in front of the hotel.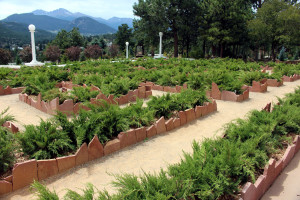 And after spending that night alone, wandering the halls of the Stanley Hotel, listening to its tales of the paranormal, drinking alone at the hotel bar, and mulling over the bones of his next novel, Stephen King had all the inspiration – and maybe just enough cabin fever – to create his third novel.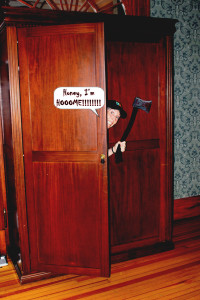 On the other hand, maybe Stephen King was simply putting into writing what he had been told to write by the ghostly inhabitants of the Stanley Hotel!
Life Imitates Art Imitating Life
"The Shining" became a huge success, and King quickly sold the movie rights to Stanley Kubrick.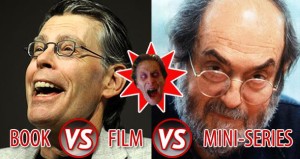 But Kubrick's 1980 version, starring Jack Nicholson as a would-be writer turned madman, didn't follow the book precisely, and rumors surfaced that King was unhappy with Kubrick's changes. No one else seemed to mind the liberties taken in the movie version, and the film today is widely regarded as one of the scariest and best movies ever made.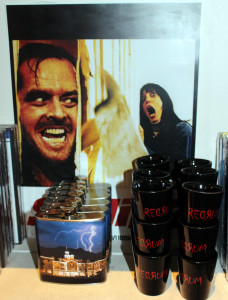 Even though Kubrick's film isn't set there, the Stanley Hotel fully embraces both the novel and the Kubrick version, along with a 1997 made-for-TV remake.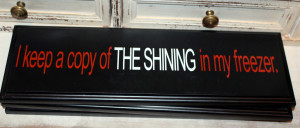 In fact, a tour guide at the Stanley noted that the real hotel today lacks a topiary –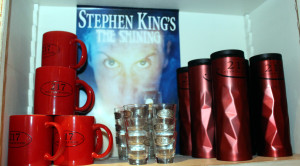 but they are in the process of building one so the Stanley Hotel can live up to its reputation as established in both the novel and the film!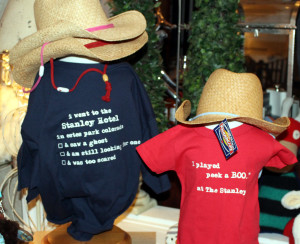 Still a Fancy Hotel, Ghosts, Mysteries and All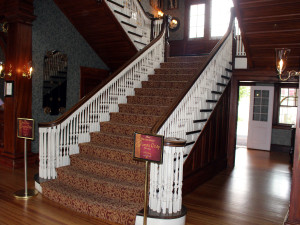 Visitors are welcome at the Stanley Hotel, but only registered guests are allowed to go upstairs to walk its famous hallways. A high-end gift shop, with prices to match, contains at least as many references to "The Shining" in all its forms – novel, movie and TV mini-series – as it does to the actual history of the hotel.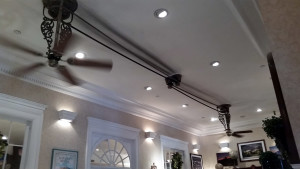 There are two vintage fans on the ceiling of the gift shop that are turned by the same motorized belt and pulley system.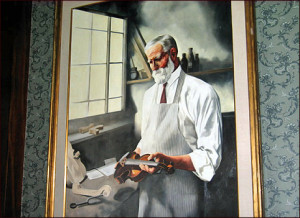 The lobby features a portrait of F.O. Stanley and a photograph of Windam Thomas Wyndam-Quin, the 4th Earl of Dunraven England, from whom F. O. Stanley purchased the 160 acre property on which the Hotel is built.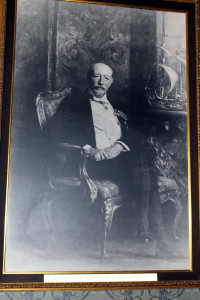 It seems Dunraven had been trying to buy up as much of Estes Park and the surrounding area as he could to establish a private fox hunting estate for himself and his friends from Europe. When local citizens caught wind of his plan, they were able to thwart his efforts, so he decided to unload the property.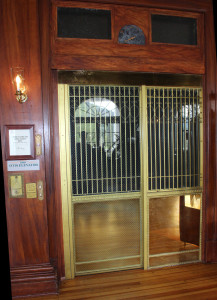 Stanley had come west for the drier climate to treat his health problems, and thought it might attract visitors who wanted to see what would soon become Rocky Mountain National Park. In the lobby, you'll find a 1909 Otis elevator and an antique Chickering & Sons piano.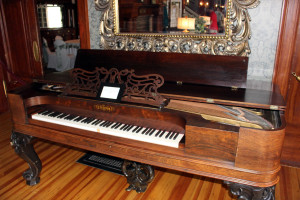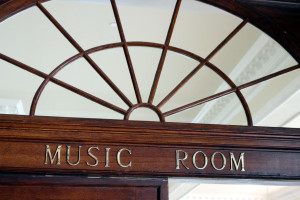 The Music Room includes a Steinway grand piano that was a present from F.O. Stanley to his wife Flora on the opening day of the hotel. The piano is one of the few remaining pieces of furniture left at the hotel. For several years, John Philip Sousa personally played this piano and tuned it himself.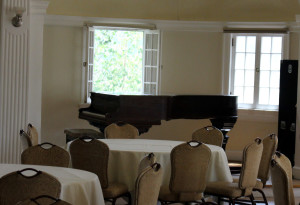 Each time he tuned the instrument, he carved his initials and the date on the inside. The piano was recently restored, and the technician proudly announced that he had successfully removed "all that chicken scratching" from the interior!
Ready to Book Your Stay?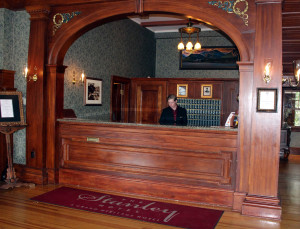 So if you're planning to visit Rocky Mountain National Park, and you want to stay at a classy hotel with lots of history and stories of its own to tell… and that costs about seven times as much per night as our campsite!… then the Stanley Hotel just might be your place.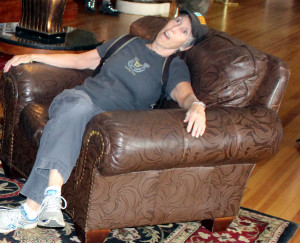 Just don't plan to stay there on your own after the season is over! But just in case you do find yourself alone in the Stanley Hotel in the witer, trying to get over a case of writer's block, you might want to follow Stephen King's advice…