First Day of A Hundred
On Memorial Day weekend 2017, we began our tenth consecutive year of traveling the roadways of America in our RV.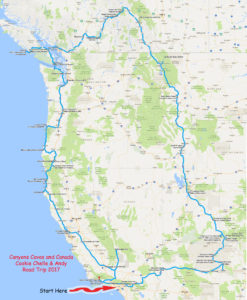 This time, we're heading once again to several places in the Southwest that we spotted but didn't get to last year. Then we head north through parts of Colorado and Utah, then through Idaho and on to Montana before we cross the border to spend a month in Canada, just in time for their sesquicentennial celebrations, then another month to return. We expect to be a hundred days on the road this time… but to start, we decided to spend Memorial Day weekend at a place we've visited twice before – Joshua Tree National Park.
A Tale of Two Deserts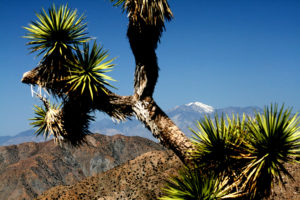 Joshua Tree was the second National Park we visited when we began our travels all those years ago, and on that first visit, we thought we had landed on another planet.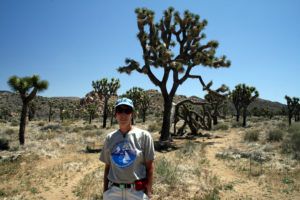 When we returned last year after visiting over 100 National Parks, Monuments and Historic Sites, we decided to see the infrequently visited eastern section… where we wondered if we were in the wrong park!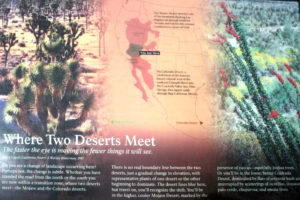 This is because Joshua Tree National Park straddles two quite different deserts with different ecosystems, primarily determined by their altitude.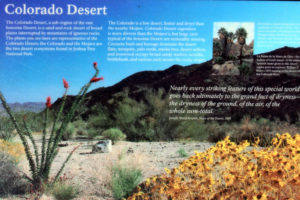 The eastern side of the park is below 3000 feet in the Colorado or Sonoran Desert, where ocotillo, creosote bush and cholla cactus are the dominant plant life.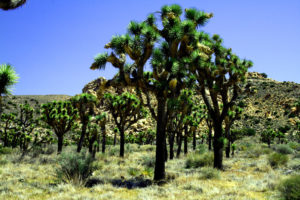 The west side of the park is in the Mojave, a slightly cooler, higher and moister desert.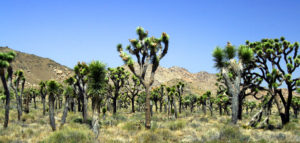 "Moist" is a relative term, as the average precipitation in the park is only 5 to 6 inches a year now, but it's enough to provide the perfect environment for Joshua Trees to flourish. In addition, this side of the park features the strange rock outcroppings that give Joshua Tree its other-worldly appearance, and make this park a mecca for rock climbers.

So on our return this year, our choice was clear – the western side it would be, in the Mojave Desert, with all its Joshua Trees and strange rock formations.
Remembering Another Memorial Day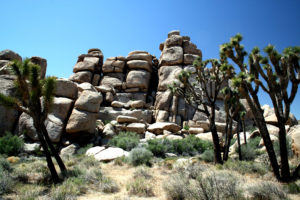 As we entered the park from the Visitor Center in the town of Joshua Tree, we noticed the landscape rapidly rising, as the rock outcroppings appeared, and the Joshua Trees became as numerous as a forest.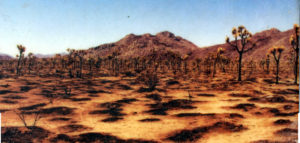 Like all forests, this one is also prone to fire. On May 27th 1999, exactly 18 years before our arrival, lightning from a passing thunderstorm sparked four fires, torching nearly 14,000 acres of the park. The holiday crowds and many campgrounds had to be evacuated, and it took scores of fire fighters three days to contain the blaze.

Today, the scorch marks are gone, but so are the Joshua Trees in this area on the eastern edge of the Memorial Fire.
By the Time We Got to Joshua Tree…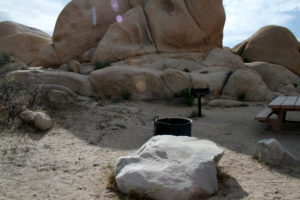 When we picked our departure date, we forgot it was the start of a holiday weekend… when you're retired, every day is Saturday!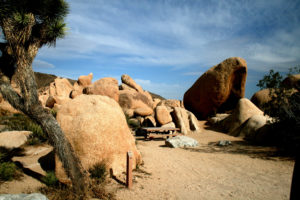 There are several campgrounds inside the park for "dry camping" (i.e. no RV hookups for water, electric or sewer).
They're beautiful places to camp if you arrive early, but most are first-come first-served, so on a holiday weekend, you need to arrive early on Friday to have any chance.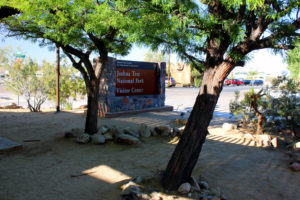 We went to the Visitor Center late Saturday afternoon, and found some very annoyed looking people dressed like hippies who apparently thought they could just show up at the park and campsites would materialize for them. Maybe they thought they were going to Woodstock and could just plop down anywhere, but that's not the case, and everything was taken.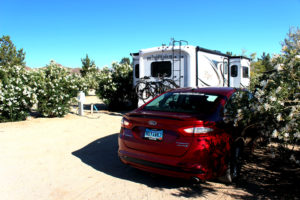 Fortunately for us, we like to plan ahead, so we had already reserved a campsite – with water and electric hookups – a few miles outside the park at Joshua Tree Lake RV Park.
Ranger Talks and Planning Walks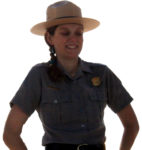 Even though this was our third visit to Joshua Tree, we found a few places and things to do that we hadn't been to on previous visits. National Parks are like that… there's always more to see and do.  On our first full day, we stopped at the Visitor Center and caught a Ranger talk about bats.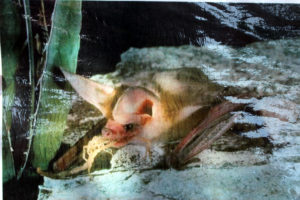 There are several species of bats in the park, and it's a great topic for the group of mostly young families who gathered for the talk.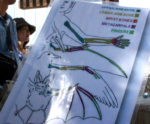 Ranger Erin Cox dispelled some of the myths and explained how beneficial bats can be.
Whenever we visit a National Park, we look for the day's schedule of ranger-led talks and walks, as they're almost always entertaining and informative, and help you plan your day.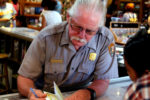 We decided to catch the afternoon ranger talk and walk at Cap Rock with Ranger David Denslow, which gave us time to make a few stops, walk a short, easy hike (1.3 miles) around Barker Dam, stop back at our campsite to grab lunch and empty the dog, and get to Cap Rock in time for the ranger talk.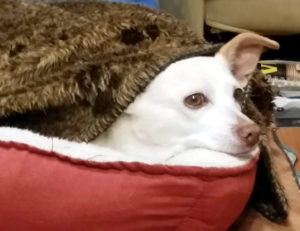 Even though these are our Travels With Cookie, she's not allowed on trails in most national or state parks, so we have to tell her – and you, dear reader – about them when we get back!
Ranchers, Miners and a Headstone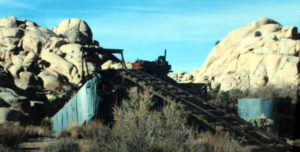 The trail head for Barker Dam is next to another hiking trail to the Wall Street Mill, where rancher and miner Bill Keys set up a stamping mill to process gold for the local miners during the Depression in the 1930s!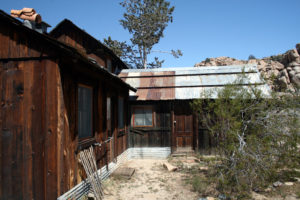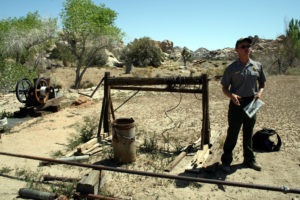 Keys is something of a legend in Joshua Tree, and his former ranch is now the site of ranger led tours.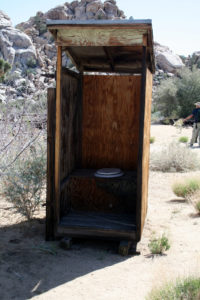 Luckily, we took that tour in 2009, as it wasn't on the schedule this visit.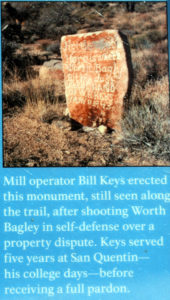 Along the mill trail there's a headstone Keys placed, announcing the spot where he had shot dead a man named Worth Bagley in a property dispute, for which he spent five years in San Quentin penitentiary. Today, he has a road, a "lookout" and a ranch house tour named after him in a National Park… only in America!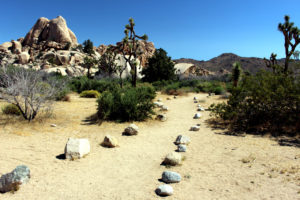 We didn't head that way though, we went to see Barker Dam.
Hike to a Desert Lake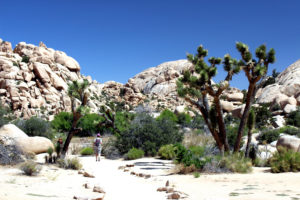 Barker Dam was built by cowboys in the early 1900s to collect rainwater for their cattle.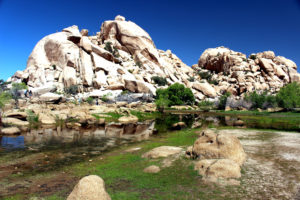 It's a bit startling to see a small lake suddenly appear in this parched land, or to think of ranchers raising cattle here, but the average rainfall at Joshua Tree 100 years ago was double what it is today.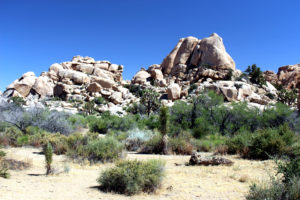 The Barker Dam trail provides a stroll through a moonscape of monzogranite boulders punctuated by turbinella desert oaks, parry nolina yuccas, and of course Joshua Trees.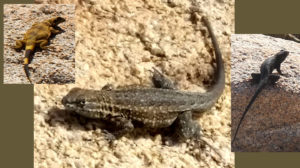 Lizards of various sizes and colors scurry over the rocks, and migrating ducks, blue herons and occasional shorebirds stop by for a drink of clear water from the little lake, although we didn't see any waterfowl on our walk.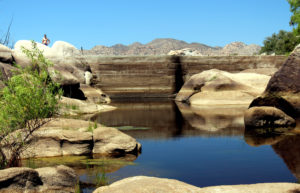 The Keys family added the upper section of concrete and renamed it the "Big Horn Dam" in the 1950s, but the name didn't stick… it's still the Barker Dam. The weather was delightful, and we enjoyed the easy hike.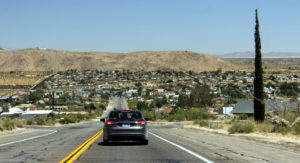 Driving down the road back to our camper, we could see how high above the town this section of the park really is… and it's great for the mileage when you're driving a hybrid!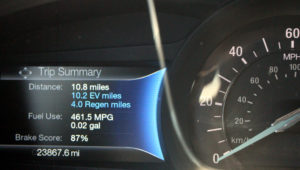 A quick dog walk, a little lunch, and it was back to the park for the Cap Rock ranger walk.
What the Heck IS a Joshua Tree?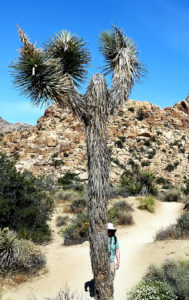 As Ranger David Denslow told us, its name is said to have originated when Mormon pioneers first encountered them as they searched for the promised land in the Mojave Desert. The strange trees with their limbs raised in supplication reminded them of biblical accounts of the prophet Joshua.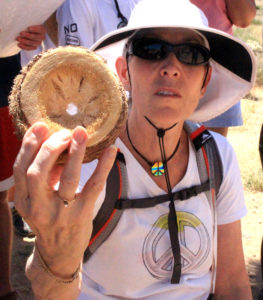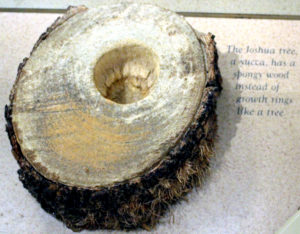 But are they really trees? They do fit the dictionary definition., but look inside the trunk of a dead Joshua tree, and you'll find no wood, nor any annual growth rings. The only place in the world where Joshua Trees are found is the Mojave Desert, but where do they fit into the plant kingdom? Until fairly recently, scientists believed they were actually members of the lily family, but DNA testing now shows they are actually yuccas… the only yuccas that are also real trees! The lack of growth rings make Joshua trees difficult to date, but their growth rate is very consistent, so their age can be estimated from their height.
And just in case these trees didn't have enough trouble living in the desert, their seed pods are too heavy to be blown by the wind, and they cannot germinate unless the flowers that shield them suffer damage.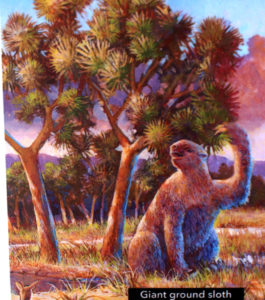 So how did their range extend so far, covering the entire Mojave? It turns out that they had plenty of help during the last Ice Age from a now extinct desert species – the Giant Ground Sloth. They loved to eat the fruit and seeds of the Joshua tree, and their coprolites are filled with Joshua tree seeds. As the giant sloths wandered all over what is now the Mojave, they spread the seeds far and wide. The Giant Sloths are gone now, and with climate change accelerating, Joshua Trees could be gone from Joshua Tree Park a hundred years from now. But with any luck, they might just cover what is now Death Valley!
The Demise of the Grievous Angel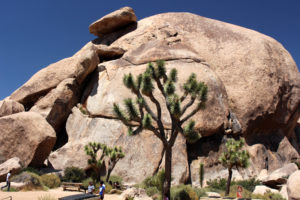 Despite its precarious appearance, hanging over the edge of a jumble of boulders, Cap Rock is a favorite for rock climbers.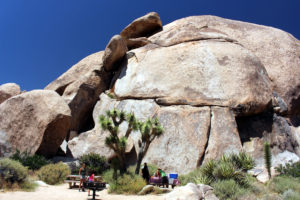 We hope it's more stable than it looks; the park service keeps a couple of picnic tables shaded by Joshua trees right below!
Rock climbers are not the only fans of Cap Rock… it was a favorite hangout spot for country rock musician Gram Parsons.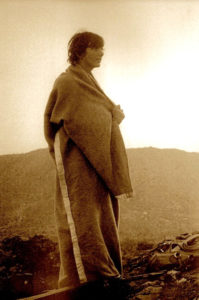 His friends said Gram loved Cap Rock so much that he wanted his ashes spread there so it could be his final resting place.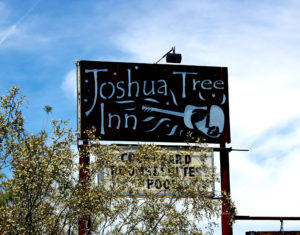 After Parsons overdosed on alcohol and drugs at the Joshua Tree Inn – outside the park – his family arranged to have his remains flown to Louisiana for burial, but his road manager and a couple of buddies stole the casket and sped to Cap Rock.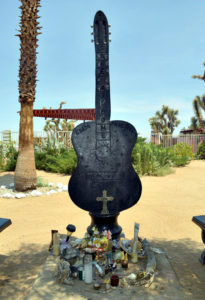 After they got there, they could hear the sound of police sirens entering the park, so they hastily set the corpse on fire, but they didn't get the chance to spread his ashes before they were arrested, and the remains were sent to his family in Louisiana. The Park Service doesn't officially draw attention to this macabre tale, and Ranger David didn't mention it, but many fans of Gram Parsons, the Byrds, the Flying Burrito Brothers or Emmylou Harris are familiar with the bizarre story.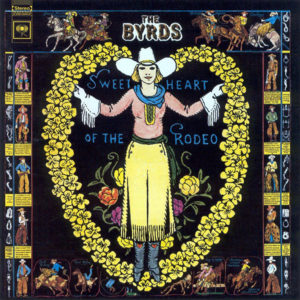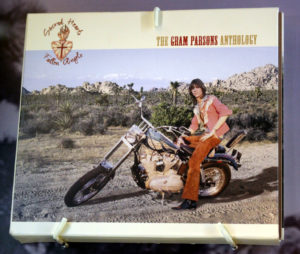 A Rock Climber's Paradise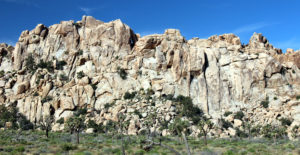 Hemingway Buttress is another favorite attraction for rock climbers. We are not rock climbers, nor are we likely to become rock climbers, but we can appreciate the skills needed to be rock climbers.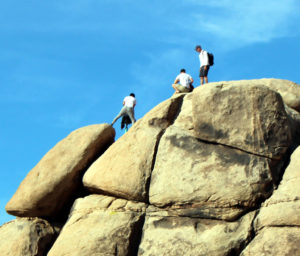 We're not sure all the rock climbers we saw actually possess those skills, but who are we to judge?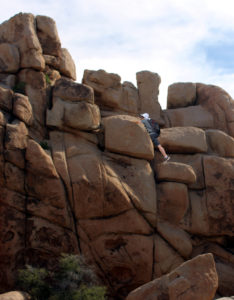 The monzogranite boulders at Hemingway have many fine cracks, which apparently aid in climbing, and climbing enthusiasts have established routes for rappelling back down, giving them some interesting names like "The Importance of Being Ernest." Park visitors can't help but wonder how all these strange rock outcroppings ended up where they are, in the condition they are in.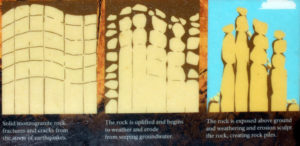 The displays at Hemingway Buttress give a graphical explanation of the processes of uplift, water and wind erosion behind these fascinating landscapes.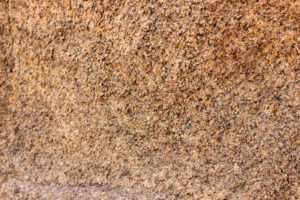 A Cattle Rustler's Hideout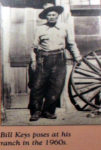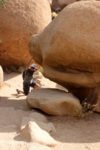 Our next stop was the trailhead at Hidden Valley. At the beginning of the trail, there's a hole through the rocks that was blasted by… you guessed it, Bill Keys… shortly before FDR designated Joshua Tree as a National Monument in 1936.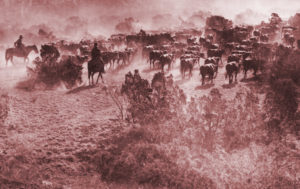 Hidden Valley had been used by cattle rustlers in the 1870s as a place to hide cattle and horses they had stolen from Arizona and California. Back then, it was lush, and difficult to spot unless you knew where to look for it. By the end of the 19th century, miners, law officers and more respectable cattlemen moved into the area, and cattle rustling lost much of its former cachet.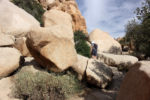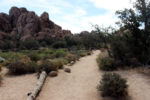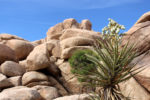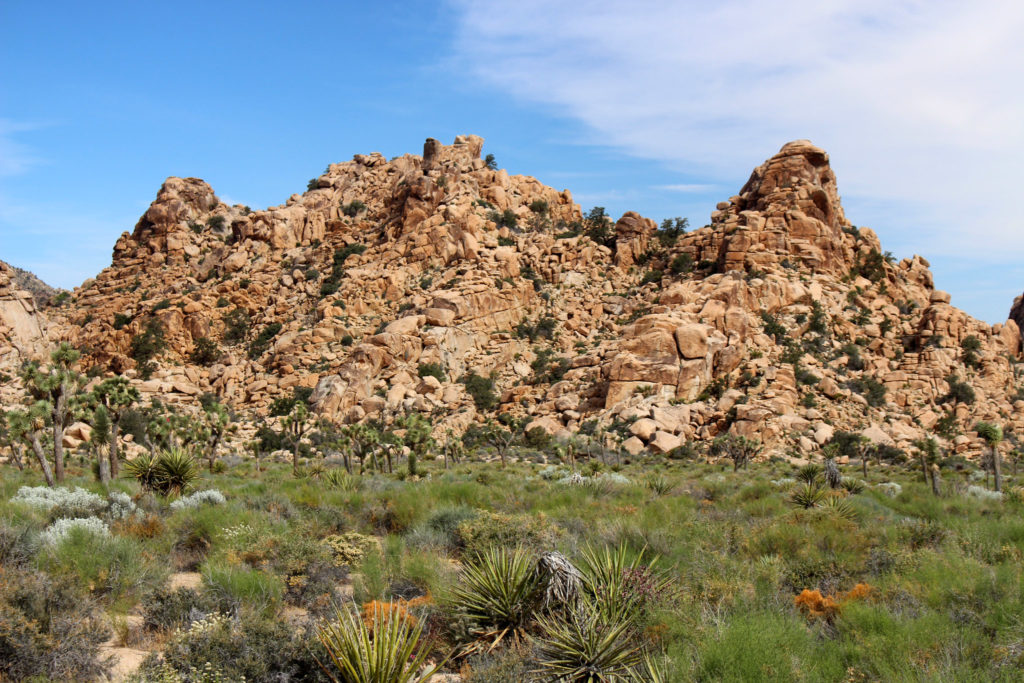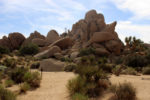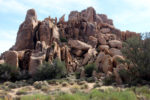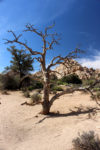 Today, Hidden Valley is a beautiful place for a hike.
A Few Last Stops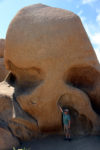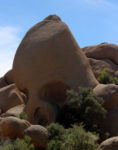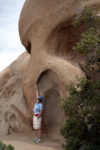 On our way to the Oasis Visitor Center in the town of Twenty-nine Palms, we stopped briefly to revisit a spot we saw on our very first visit in 2009 – Skull Rock! It's a favorite spot of many people to pause for a photograph underneath the eerie formation.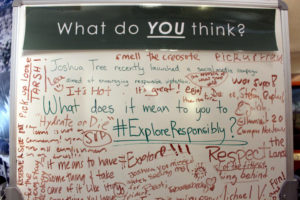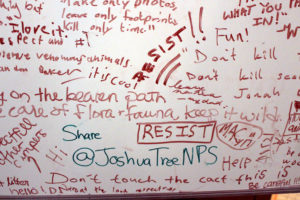 At the Visitor Center, the National Park Service has a whiteboard announcing their social media campaign to encourage responsible visitation, and where you can write your answer to the question "What does it mean to you to #ExploreResponsibly?" We didn't find room to write our own answer, but we did find some answers we liked a lot. Can you?
But There's Lots More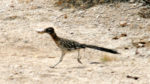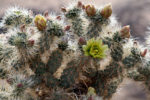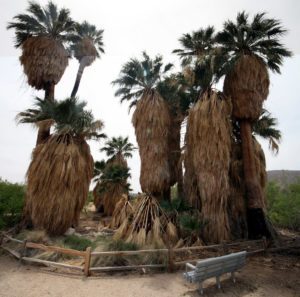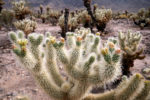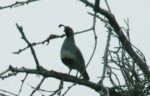 There are many more aspects of Joshua Tree National Park we didn't write about here – the surprising varieties of animal and plant life, the early cultures and the ways native peoples survived and thrived here in the past, the springs and oases, and the fault lines that cause them as they run through the park,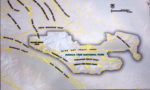 or Minerva Hoyt, the socialite who campaigned for decades for the government to step in to protect this special place and save the desert, its cactuses and Joshua trees from destruction.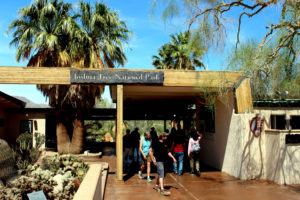 You'll just have to make plans to visit Joshua Tree yourself, and create your own adventure. But there is one last thing we do want to mention, and that's the music of Joshua Tree!
A Magnet For Musicians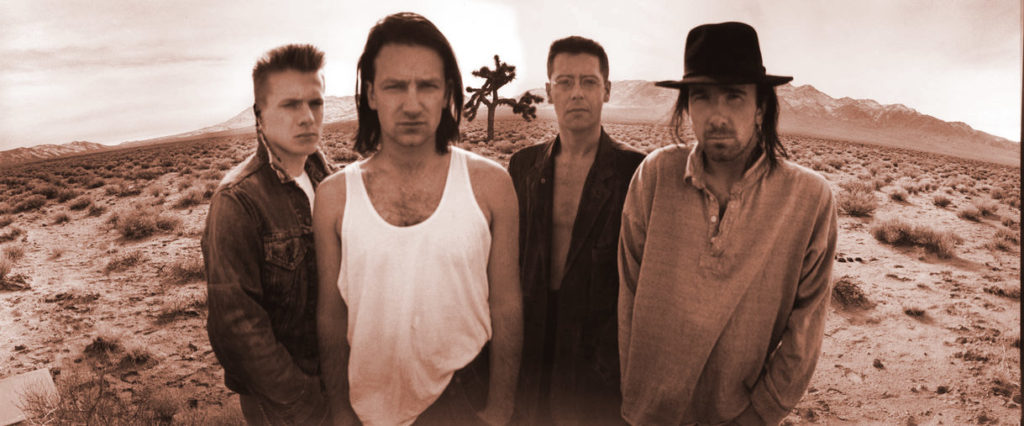 In 1987, the great Irish band U2 released their iconic record "The Joshua Tree," and this year, for the thirtieth anniversary of its release, they are promoting this venerable record once again with a European and American tour.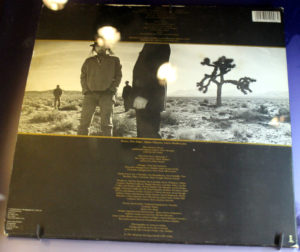 The Park Service was a bit worried about the effect this tour would have on visitation to the park, which is already breaking all records every year. Oddly enough, the photos of the band with the Joshua Tree in its desolate Mohave landscape were not taken in, nor anywhere near Joshua Tree National Park. The photo shoot took place near Death Valley, and the tree is now gone… it finally died during the recent California drought, and all that remains is a plaque.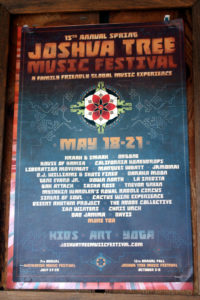 But Gram Parsons and U2 are not the only musicians drawn into this magnetic desertscape. There's an annual "family friendly" Spring Music Festival.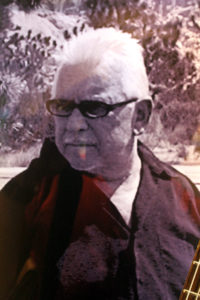 And Eric Burdon, lead singer of the 60s band The Animals and the 80s band War, has a hacienda in the town of Joshua Tree. He occasionally comes into the park to visit and even to play or to record videos for his new releases.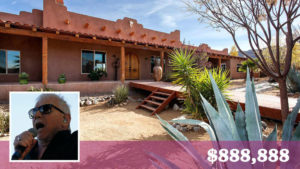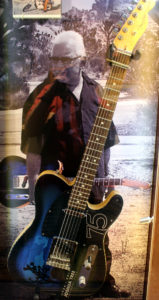 He put his house on the market a few years ago, but it hasn't sold yet. So if you happen to have $888,888 to plunk down, you can snap it up! Then you can tell your friends that you've decided to move into the House of the Rising Sun! On second thought, maybe you shouldn't put it quite like that…