It Seemed Like A Good Idea At The Time…
We usually like to have a general plan for our RV adventures before we head out.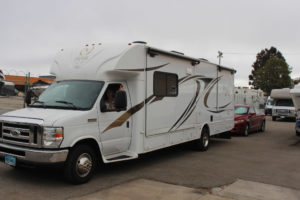 When there's a place we want to get to by a specific date, we work backwards from that date to plan a route where we can visit interesting spots along the way, leaving ourselves enough time at each stop to see what we want to see.  We don't like to have to travel too many hours in a single day, so we usually add in an overnight stop in between the places on our list if the drive would be too long.  Then, just to be sure we know where we're going, we make campground reservations by phone or online.  The only thing we don't know until a few days beforehand is the weather, so there have been times when we need to make adjustments to avoid severe storms. Since we won't be dealing with Tornado Alley this year, our plan seemed like a slam dunk, right?  Mmmm, maybe not!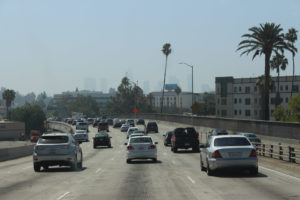 When you want to head east from Ventura, you literally have no choice but to drive through the endless traffic in Los Angeles, and then through either the Mojave or the Sonoran desert.  The Mojave is a high-altitude desert, which tends to be somewhat cooler and less dry than the Sonoran, a low desert adjacent to the Mojave.  We had chosen the Sonoran, just because we don't usually go that way. The weather in May had been unusually cool in the desert, so how bad could it be in the first week in June?
Revisiting a Favorite… Joshua Tree National Park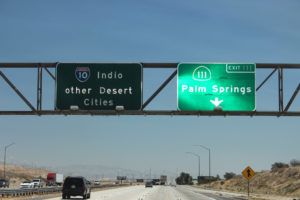 Our first stop was an overnight in Indio, just below the southern side of Joshua Tree National Park. We had visited Joshua Tree in 2009, and found it a magical place, unlike anything we had ever seen before. Joshua Trees were named after the biblical Joshua by the Mormon pioneers who were probably the first European Americans to see them.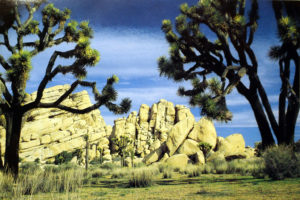 Their outstretched limbs made these Latter Day Saints think of Joshua raising his arms at Jericho. They are so unusual that botanists have long had trouble deciding what other flora they are most closely related to. When we first visited Joshua Tree, we learned that the Park straddled both the Mojave and the Sonoran, two very different deserts with remarkably different flora and fauna.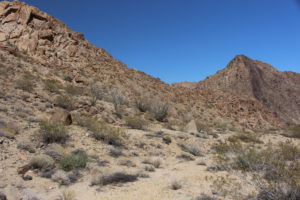 The eponymous Joshua Trees, which are not actually trees at all, are only found in the Mojave side of the Park,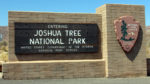 so we thought it might be interesting to stop by the less-visited Sonoran area on the south side.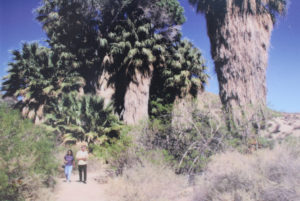 The Cottonwood Spring is the only persistent source of water there, and it feeds an oasis, which in turn provides the water for these thirsty palm trees. We read that the Cottonwood Visitor Center and a campground were located near the oasis. It was dry camping only (no hookups for water, electric or sewer), but since they don't take reservations after June 1st, we decided to play it safe and made a reservation at an RV park in Indio. That turned out to be the best idea we had for our first day out! Not only were there no Joshua Trees in this area of the National Park, we drove through 120 degrees to find we had missed the cactus bloom in May that makes the Sonoran so colorful.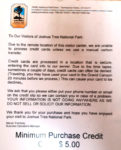 The Visitor Center was tiny, with no exhibits or the usual park video, and it was so remote that they had to use the old carbon paper credit card receipts… no internet or data lines!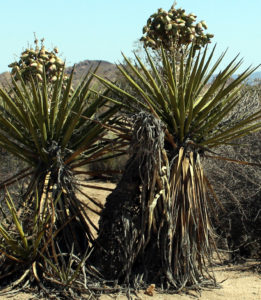 We headed down the road to see the campground we were glad we hadn't planned on, and found that at least the agave blooms had waited for us so we wouldn't be totally disappointed!
Back to Our Air Conditioned RV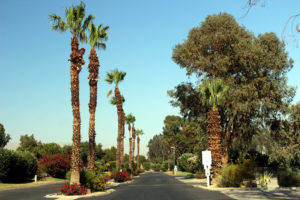 The temperature was 119 degrees when we got back to Indian Waters RV Park. When it's hot outside, we're usually glad to be greeted by a blast of cool air when we open the camper door. Didn't happen! The temperature inside the camper was 97 degrees! Was the A/C not working? Had the coils frozen, which can happen in high heat and humidity? Then we remembered that camper air conditioners usually can make a difference of only 20 degrees from the outside air, so ours had actually yielded a bonus of 2 degrees!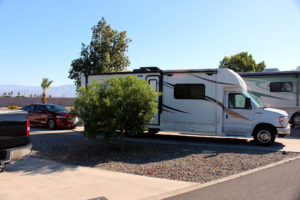 The desert heat usually dissipates quickly as sundown approaches, and a 40 to 50 degree difference between night and day wouldn't be unusual. But we were caught in a heat wave, and the outside air stayed in the 90s all night long. That was enough to make our air conditioned camper comfortable for sleeping, but by the next morning, sunrise would bring a surge of heat again.
Along the Colorado River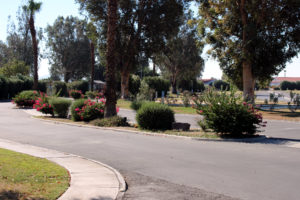 We got up early and packed up to get back on the road before the heat became too unbearable, to reach our next stop, a two day stay at Buckskin Mountain State Park on the Arizona side of the Colorado River.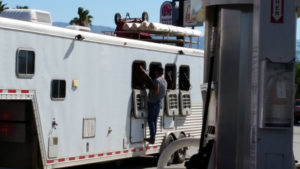 Along the way, we encountered thirsty horses at a gas station; they seemed to appreciate getting a drink as their trailer driver stopped for gas. Last year, we had camped just outside Blythe California to see the mysterious Blyth Intaglios. This time, we passed through Blythe into Arizona and headed up river, through Ehrenberg, Arizona, part of which is a ghost town!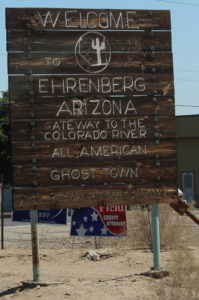 Unfortunately, the abandoned 19th Century buildings were razed in the 1950s, so there is little to be seen; we didn't stop to find out. The road along the Colorado is stick straight, and runs through the reservation of the Colorado River Indian Tribes.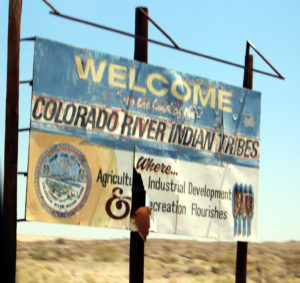 After driving through the desert for so long, the lush green fields that run through the reservation were a welcome sight. A Google Maps satellite view of the reservation puts things in perspective – the lush green farms were redeemed from a barren desert!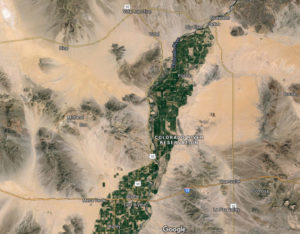 Passing through the town of Parker, which was founded by Ely Parker, a member of the local tribes and the first Native American commissioner for the U.S. government, the last leg of the trip is along Parker Strip.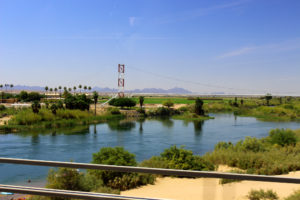 On the ground, your eyes are constantly drawn toward the beautiful blue Colorado River and the surrounding greenery as it peeks through the increasingly mountainous landscape on the way to Buckskin Mountain State Park, where we hoped to reconnect with Ranger Marlo Buchmann, whom we had come to know and love from Kartchner Caverns State Park. Marlo had trained us to become Cave Tour Guides… but that's a story for another day!